Winter 2020
Winter is here and we are almost to the end of another financial year. And what a year it's been! With so many Australians impacted by fires, floods, drought and now COVID-19, let's hope the new financial year sees a return to something like normality.
As May unfolded, hopes grew of economic re-opening. Reserve Bank Governor Philip Lowe told a Senate Committee on COVID-19 the economic downturn was less severe than feared due to Australia's better than expected health outcomes and government stimulus and support. However, he stressed: "It's very important we don't withdraw fiscal stimulus too early". Unemployment rose from 5.2% to 6.2% in April, but without JobKeeper support payments it would have been closer to 9.6%. The value of construction work fell 19% in the March quarter, 6.5% over the year, highlighting the need for government stimulus. New business investment in buildings and equipment also fell 6.1% in the year to March, although mining investment bucked the trend, up 4.2% in the March quarter. This was reflected in our record trade surplus of $77.5 billion in the year to April, despite a drop-off in imports and exports in April.
After a wave of panic buying in March, retail trade fell a record 17.9% in April, but consumer confidence is on the mend. The ANZ-Roy Morgan weekly consumer confidence index rose 8 weeks in a row to the end of May, up a total of 42% from recent lows to 92.7 points. As the global economy slowly re-opens and demand improves, iron ore prices rose 15% in May while crude oil was up 77%. Australian shares bounced back by around 5% in May, while the US market rose 3%. The Aussie dollar traded higher on our improved economic outlook, closing the month around US66.4c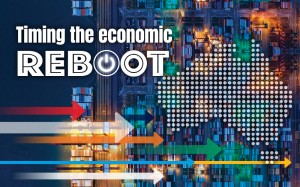 Timing the economic reboot
After successfully navigating our initial response to the COVID-19 (coronavirus) health crisis, backed up with $285 billion in government support to individuals and businesses to keep the economy ticking over, thoughts are turning to how to get the economy back on its feet.
It's a huge task, but Australia is better placed than most countries. Pre-pandemic, our Federal Budget was close to balanced and on track to be in surplus this financial year. Economic growth was chugging along at around 2 per cent.
In his Statement on the Economy on May 12, Treasurer Josh Frydenberg gave an insight into the extent of the challenge ahead. He announced that the underlying cash deficit was $22 billion to the end of March, almost $10 billion higher than forecast just six months ago. And that was before the $282 billion in support payments began to flow into the economy.
Global comparison
Economic forecasts are difficult at the best of times, but especially now when so much hinges on how quickly and safely we and the rest of the world can kick start our economies.
The International Monetary Fund (IMF) is forecasting the world economy to shrink by 3 per cent this year. To put this in perspective, even during the GFC the contraction was only 0.1 per cent in 2009.
In Australia, the government forecasts growth will fall by 10 per cent in the June quarter, our biggest fall on record. If we manage a gradual economic reboot, with most activity back to normal by the September quarter, the Reserve Bank forecasts a fall in growth of 6 per cent this year before rebounding by 7 per cent in the year to June 2021.i
Even if we pull off this relatively fast return to growth, it will take much longer to repair the budget.
Budget repair
Economists have recently reduced their forecasts for the budget deficit after the JobKeeper wage subsidy program came in $60 billion under budget. However, they are still predicting our debt and deficits will reach levels not seen since World War II.
For example, Westpac chief economist, Bill Evans forecasts a budget deficit of $80 billion this year and $170 billion next year. AMP's Dr Shane Oliver also expects the deficit to peak at $170 billion next financial year.ii
While polling shows most Australians approve of the way the federal and state governments have handled the crisis, many are beginning to wonder how we as a nation are going to pay for it.
The key to recovery will be getting Australians back to work; for those who have had their hours cut to return to full-time work, and those who have lost jobs to find work.
It's all about jobs
The unemployment rate is forecast to double to 10 per cent, or 1.4 million people, in the June quarter with total hours worked falling 20 per cent. After the June 2020 peak, the Reserve Bank expects a gradual fall in the annual unemployment rate to around 6.5 per cent by June 2022.i
With the government announcing the easing of restrictions on movement in three stages by July, Treasury estimates 850,000 people would be able to return to work.
Treasury also estimates that this easing of restrictions will increase economic growth by $9.4 billion a month. However, this outcome depends on us following the health advice. The cost of re-imposing restrictions could come at a loss of more than $4 billion a week to the economy.
The growth strategy
Looking ahead, Treasurer Frydenberg made it clear he expects the private sector to lead job creation, not government. If the past few months are anything to go by, Australians have risen to the challenge.
From working from home and staying connected via Zoom, to restaurants pivoting from dine-in to takeaway and manufacturers switching to production of ventilators and hand sanitiser, individuals and businesses have been quick to adapt and innovate.
This is likely to be one of the positive legacies of the pandemic and should help our economic recovery in the years to come.
If you would like to discuss your finances and how to make the most of the recovery, give us a call.
i https://www.rba.gov.au/publications/smp/2020/may/economic-outlook.html
ii https://www.amp.com.au/insights/grow-my-wealth/the-coming-surge-in-australias-budget-deficit-and-public-debt
Unless otherwise stated, figures have been sourced from Treasurer Josh Frydenberg's "The economic impact of the crisis" statement https://ministers.treasury.gov.au/ministers/josh-frydenberg-2018/speeches/ministerial-statement-economy-parliament-house-canberra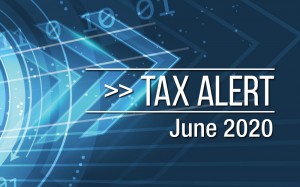 Tax Alert June 2020
With COVID-19 dominating everyone's thoughts, employers are being offered a brief window of opportunity to get their tax affairs in order with the new Superannuation Guarantee (SG) amnesty. There is also a range of virus related assistance on offer to help affected business and individual taxpayers.
Here's a roundup of some of the latest tax developments and support measures.
New amnesty for unpaid SG contributions
Employers are being offered a one-off opportunity to disclose and pay any unpaid Superannuation Guarantee (SG) amounts stretching back to the beginning of compulsory super, with legislation for the long-awaited SG amnesty finally in place.
The amnesty (which runs until 7 September 2020), allows employers to lodge an SG amnesty form to disclose super contribution shortfalls for their employees for any quarter from 1 July 1992 to 31 March 2018.
To encourage employers to take advantage of the amnesty, it will not incur the normal interest, administration charges and non-payment penalties of up to 200 per cent. Employers can also claim a tax deduction for any SG payments, provided they are made by the September 7 cut-off date.
As legislation for the amnesty doesn't allow any deadline extensions, the ATO has announced it will offer deferred payment plans to eligible businesses affected by COVID-19.
This brief amnesty also comes with a warning. The regulator has reminded businesses that the new Single Touch Payroll (STP) reporting system gives it more information on payment of employee entitlements and this will increasingly be used to identify non-compliant employers in future.
Assistance for taxpayers affected by COVID-19
In light of the challenging business conditions created by the coronavirus lockdown, the ATO is offering measures to assist taxpayers experiencing financial difficulties.
Unlike the bushfire tax relief, COVID-19 assistance measures will not be automatic. If you are affected, the ATO is encouraging you to get in touch to discuss relief options and a tailored support plan.
Support may include deferring payment of your PAYG instalments, business activity statement (BAS) liabilities and assessment amounts for income tax and excise, by up to four months.
If your business is on a quarterly reporting cycle, you may also opt into monthly GST reporting to get quicker access to your GST refunds. You may also be permitted to vary your PAYG instalment amounts to zero for the March 2020 quarter and claim refunds for instalments you paid for the September and December 2019 quarters.
However, employers still need to meet ongoing SG obligations for their employees.
The ATO will also work with individuals experiencing financial hardship and may offer tax relief if you are in serious and exceptional circumstances, such as being unable to pay for food or accommodation.
Fringe benefits tax deferred
Due to the challenges created by the COVID-19 lockdown, the ATO has also deferred lodgment of all 2019–20 fringe benefits tax (FBT) annual returns.
This means your business is not required to lodge your annual return or pay your FBT liability until 25 June 2020.
Directors liable for unpaid tax
Company directors need to remember that from 1 April 2020 they are personally liable for their company's unpaid GST, luxury car tax or wine equalisation tax liabilities.
The new Treasury Laws Amendment (Combating Illegal Phoenixing) Act 2019 has extended the existing director penalty notice (DPN) regime, which is designed to protect employee entitlements such as PAYG withholding and SG contributions.
If you are a company director on the final day of a tax period or GST instalment quarter, you become personally liable for any GST remaining unpaid by the due date. If your company does not lodge a return, the ATO can estimate the amount of unpaid tax.
Claims for residential rental properties
The ATO has provided landlords with new guidance on tax deductions if they have tenants who are temporarily not paying rent, or paying reduced rent, due to COVID-19.
If landlords are still incurring normal expenses on the property, they can continue to claim these expenses in their tax return.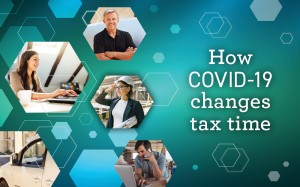 How COVID-19 changes tax time
As this financial year draws to a close, it will be viewed as a year like no other. COVID-19 (coronavirus) has impacted everybody's life, albeit in different ways for different people.
For some, staying at home has meant you have greater savings; for others, the virus has meant lower wages or even the prospect of unemployment for one or more members of the family.
Whichever side of the equation you fall, end of financial year planning has never been more important. Traditionally it marks a time when you can stop and assess your current situation and make plans for the future. That hasn't changed but your circumstances may well have.
Super options
If you are in the fortunate position of having saved more money, you could consider making extra contributions to your super. This could take the form of voluntary contributions, spouse contributions, co-contributions or carrying forward any unused contributions from last year.
As superannuation is concessionally taxed, it makes sense to make the most of this environment.
Using the unused contributions rule, say you only made $20,000 in concessional contributions in the 2018-19 financial year, then you have $5000 in unused contributions you could make this current year. This means you could contribute a total of $30,000 in this current year ($5000 unused contributions plus the annual contributions limit of $25,000) as long as your super balance is less than $500,000.
Or you might consider making a co-contribution to your fund. If you earned $38,564 or less this financial year, then you could contribute up to $1000 to your super as a non-concessional payment and the government will match it with a contribution of up to $500. That's a handsome return on your investment of 50 per cent. The government's co-contribution gradually phases out once your income reaches $53,564.
If on the other hand you have lost some or all of your income and have fallen on financial hard times, you may be eligible to withdraw $10,000 from your superannuation before the end of this financial year and then a further $10,000 in the first quarter of the 2020-21 financial year.
This will have an impact on your final retirement balance, but it may be of considerable help in your current situation. It's important to weigh up carefully the pros and cons of such a move.
Tax concessions
Of course, reduced income will mean you may well benefit from a tax refund as you may not have worked the full year or not at the rate you began the year.
When you are calculating your expenses for this current financial year, also remember that there are expenses associated with working from home such as mobile and internet costs, electronic device purchases and stationery costs.
The Australian Taxation Office has a quick formula which will allow you to claim 80c for every hour worked at home or else you can choose to calculate the actual amount yourself. This may end up giving a better result but could be more time consuming. The volatile sharemarket may also mean that you have some capital gains or losses that you can offset against your taxable income.
Retiree breaks
For retirees, the coronavirus may also have put a dent in your income due to sharemarket losses or reduced rental income from investment properties.
To ease the pressure, the Government has moved to cut the minimum drawdown requirement on superannuation pensions by 50 per cent for both this current financial year and next year. If you are in a position to take advantage of this drawdown reduction, then it may go some way to maintaining your retirement savings.
Of course, the rule of bringing forward expenses into the current year and deferring receipts into the following year still holds. For instance, if you have insurance premiums to pay and can afford it, consider making them up to 13 months in advance in the current year.
Donating to charity is also something to consider, particularly when there is so much need for financial assistance in the community this year. All donations to registered charities are tax deductible.
If you want to know how to make the most of your end of financial year planning this year, please contact us to discuss.