Summer 2016
Summer's here and the countdown to Christmas begins in earnest. After such an eventful year on the global political and economic front, investors will no doubt be looking forward to some time out to relax with family and friends.
Donald Trump's election to the US Presidency ushers in a period of uncertainty for the global economy and financial markets until he takes office on January 20 and his policies become clearer. Markets reacted with rising bond yields and a higher US dollar, paving the way for the US Federal Reserve to lift interest rates as planned in December. US shares reached their highest levels since 1999, while Australian resource stocks also surged on the back of Trump's stimulatory agenda. Not so positive for Australia is Trump's promise to withdraw from the Trans Pacific Partnership (TPP) on his first day in office. The TPP would have been the world's biggest free trade agreement and scrapping it will have implications for Australia's trade in the region.
While Trump's victory eclipsed most other news in November, there was some positive economic data at home. Unemployment held steady at 5.6 per cent in October, at three-and-a-half-year lows. Consumer confidence is also buoyant; the ANZ/Roy Morgan Consumer Confidence indicator rose to a 7-week high in mid-November before dipping 2.3 per cent to 115.5. Still, this augurs well for the Christmas spending period. It also suggests there will be no more rate cuts from the Reserve Bank this year.
In this issue:
Silly season scams: how to stay safe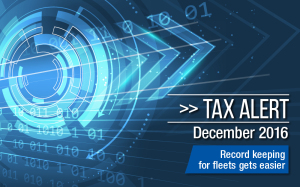 Tax Alert December 2016
Record keeping for fleets gets easier
Businesses with large car fleets and superannuation savers will be breathing a sigh of relief following the latest round of tax changes and announcements. Here's a roundup of some of the latest developments:
Simplified record keeping for fleet cars
The ATO has released the Practice Compliance Guideline 2016/10i to explain a new simplified approach employers can use for calculating the fringe benefit tax (FBT) on their fleet cars for the 2017 FBT year and beyond. Employers with fleets of 20 or more vehicles can elect to use this new method to work out the business use component and taxable value of car fringe benefits provided to their employees.
The simplified approach is designed to reduce the record keeping burden by allowing employers to rely on a representative average business use percentage for the whole fleet. It can be used with fleets of 20 or more 'tool of trade' cars provided for extensive business use.… Read more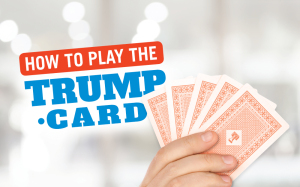 How to play the Trump card
To say that Donald Trump's election as President of the United States took the world by surprise is an understatement. Markets hate surprises and uncertainty, so a short-term period of volatility is to be expected. But as investors begin to digest the new policy direction, buying opportunities could arise.
So, what do we know of President-elect Trump's policies and what will they mean for us?
Mining shares rally
Global share markets responded positively to Trump's promise to increase spending on infrastructure and defence and to cut taxes. These policies would provide a shot of fiscal stimulus to the US economy and Australian companies that do business there.
Coal and iron ore prices were already rising but iron ore surged ahead by almost 15 per cent in the week of the election.i Australian resource stocks are up about 35 per cent this year.ii
Trump has also pledged to reduce industry regulation and allow the importation of foreign drugs, which is… Read more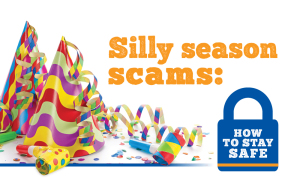 Silly season scams: how to stay safe
There's something about the end of year holiday time that makes people relax and let down their guard a bit. We all spend a bit more, eat a bit more, and stress a bit less. It's called the 'silly season' for a reason.
Unfortunately, fraudsters and scammers recognise this as an opportunity, and they take advantage. Every year, police and the ACCC's ScamWatch receive complaints about tens of millions of dollars lost to Christmas-related scams. Unfortunately, most people don't get their money back.
In addition to the normal vigilance you'd apply to online security and too-good-to-be true offers, there are a few particularly nasty Christmas scams to be wary of. Avoid these and you'll save yourself a lot of heartache (and money) come holiday time.
Fake online shopping sites
It's all too easy for scammers to set up fake designer brand websites that look just like the real thing. They might have domain names that include another word like '… Read more