Spring 2016
Spring is here, time to put your winter woollies away for another year and get into the great outdoors. If you are in need of inspiration, the recent Olympic Games and the Paralympics about to begin have something for everyone.
The Rio Olympics were not the only spectator sport in August. All eyes on global financial markets were trained on the annual meeting of central bankers at Jackson Hole, Wyoming, hoping for guidance about the direction of US interest rates. In a much anticipated speech, US Federal Reserve chair Janet Yellen said 'the case for an increase in the federal funds rate has strengthened in recent months'. She cited the solid performance of the US labour market and the outlook for economic activity and inflation.
In Australia, rates moved in the opposite direction. The Reserve Bank of Australia cut the cash rate to a record low of 1.5 per cent in August. While noting that 'prospects for growth in economic activity are positive', the RBA board believes 'there is room for stronger growth'. This view was reinforced by the company profit reporting season just ended. If BHP Billiton's large loss is excluded, an analysis by CommSec found that profits of the top 200 companies rose a solid 8.5 per cent in the year to June 30, while 92 per cent paid a dividend. After a year of cost-cutting and restructuring, the outlook for the corporate sector in 2017 is improving. With inflation running at an annual rate of 1 per cent, the RBA has room to cut rates further if needed.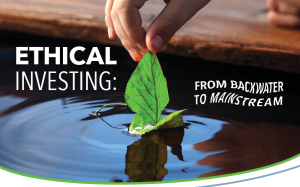 Ethical investing: from backwater to mainstream
Today's consumers are increasingly demanding to know if their morning coffee is 'fair trade', their crispy-skinned fish is sustainably caught and their home can be run more efficiently on solar power. So it's not surprising that many consumers are also choosing to align their ethics with their money.
Over the last decade, ethical investing has gone from backwater to mainstream. The amount of money invested in ethical funds – sometimes called sustainable or socially responsible investments – rose 62 per cent in the year to December 2015, to $51.5 billion.
The sector has also grown in relative terms, doubling over the past two years to 3.8 per cent of total assets under management. This was the finding of the Responsible Investment Benchmark Report 2016, an annual survey now in its 15th year.
But when it comes to investing your hard-earned cash, the feel good factor is not enough. In order to achieve your long-term financial goals, you need to earn the best possible return on your money.
Many happy returns
The numbers are in and they show that professionally-managed ethical funds have been performing strongly. Ethical Australian share funds and balanced (or multi-sector) funds have outperformed their benchmark index and comparable mainstream funds over 1, 3, 5 and 10 years. Ethical global share funds have outperformed over 5 and 10 years but not in the short term.
Of course, past returns can't be relied on to predict future performance. But the figures do support the notion that it's possible to invest responsibly without sacrificing returns.
What is an ethical investment?
The definition of ethical comes down to your personal values and can be as broad or narrow as you want it to be. You may want to support the development of renewable energy while others might want to limit the spread of poker machines. Or you may want mainstream fund managers to encourage high standards of corporate governance from the companies they invest in.
Here is a summary of investment styles on offer:
ESG integration – includes environmental, social and governance (ESG) factors into financial analysis and investment decision-making by fund managers. This is done in the belief that these factors drive returns and reduce risk.
Impact investing – targets investments aimed at social or environmental issues while creating positive returns for investors.
Negative screening – excludes specific industries, sectors, companies, practices or countries that don't align with ethical goals. Common exclusions are gaming, alcohol, tobacco, weapons and animal testing.
Positive screening – selects investments with positive ESG or sustainability performance relative to industry peers. Sometimes called best-in-class screening.
Sustainability – targets investments in areas such as clean energy, green technology sustainable agriculture and forestry, green property or water technology.i
Investing for the long term
It's not just consumers who are driving ethical investing. Increasingly, professional investment managers are incorporating factors such as ESG practices into their mainstream investment products. And they are doing so for hard-headed financial reasons.
A recent US study found that 90 per cent of professional investors believe there is a link between corporate sustainability and long-term financial performance. According to managed fund ratings group Morningstar, a good ESG rating can be an indicator that a company is thinking seriously about the long term. This makes them a good fit for long-term investors and superannuation funds.
Nine out of 10 of Australia's largest asset managers have taken broad ethical principles on board.
How can I invest ethically?
The simplest way to put your money where your values lie is to select an ethical managed fund or investment option either inside or outside super. This will provide a diversified portfolio of investments even if you have only a relatively small sum to invest.
Ethical investing has come a long way from a standing start back in the 1990s. If you would like to include an ethical component in your investment portfolio, give us a call.
i Responsible Investment Association of Australia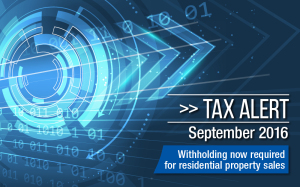 Tax Alert September 2016
Withholding now required for residential property sales
While the recent federal election may have kept our politicians busy for a few months, it hasn't stopped the tax man from announcing important tax changes and new decisions. Here's a roundup of the latest tax-related developments and where the ATO's attention is likely to be focused in coming months.
New rules when selling a property
Selling a residential property with a market value of $2 million or more has become a little more complex from 1 July 2016. Under new rules, a 10 per cent withholding tax will apply to all contracts entered into on or after this date, unless a clearance certificate is obtained from the ATO.
The new withholding requirement is designed to help with the collection of foreign residents' Australian tax liabilities. Purchasers must now withhold 10 per cent of the purchase price and pay it to the ATO at the time of contract settlement.
Vendors who are Australian residents can avoid the withholding requirement by providing an ATO clearance certificate to the purchaser prior to settlement, while vendors who are foreign residents can apply for a variation of the withholding requirement.
Super stream deadline extended
Small businesses that have failed to prepare for the ATO's electronic superannuation contribution requirements have been given a reprieve, following an announcement the deadline for compliance with the SuperStream system has been extended until 28 October for businesses with 19 or fewer employees.
The original deadline was 1 July 2016, but small employers still have time to ensure they are able to pay their employees' superannuation contributions electronically (via EFT or BPay) and to send the associated data electronically. Larger employers are already required to comply.
SuperStream was developed to ensure consistent transmission of data in a standard format between employers, super funds, service providers and the ATO. Employee contribution payments are linked to this data by a unique payment reference number.
Airport lounge fees deductible
The ATO has released a new taxation determination confirming employers are entitled to a tax deduction for the annual membership fee they pay to provide employees with access to an airport lounge.
Taxation Determination (TD2016/15) clarifies that employers can claim for these fees where the membership is provided because of an employment relationship. Fees are fully deductible even if there is substantial private use of the lounge membership by employees, such as when they are on holiday.
Warning issued on super tax schemes
Pre-retirees involved in tax arrangements designed to reduce their tax bill may find themselves under the microscope. This follows the launch of the ATO's Project Super Scheme Smart, which is targeting arrangements that encourage people to channel money inappropriately through their self managed super fund (SMSF).
These schemes typically involve complex structures connected to the SMSF and a significant amount of paper shuffling, leaving the taxpayer with a minimal tax bill, or even a tax refund. The ATO has highlighted the substantial penalties for involvement in these schemes and is urging caution by both pre-retirees and accountants.
Inactive partnership ABNs cancelled
The Australian Business Register plans to start cancelling the Australian Business Numbers (ABNs) of partnerships if they appear to no longer be carrying on an enterprise and have not lodged an income tax return or business activity statement (BAS) for the past two years.
The ATO will not cancel ABNs if the partnership is registered with the Australian Charities and Not-for-profits Commission, or is a non-reporting member of a GST or income tax group. This will also apply if a known associate of the partnership has lodged a return or BAS and declared business income or expenses.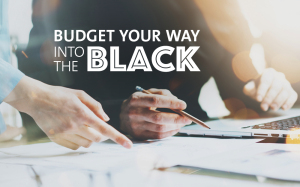 Budget your way into the black
$2.2 trillion. That's how much Australian households owe right now, according to the latest ABS stats.i Household liabilities grew by $1.2 billion in the last quarter alone. Real household debt per person has risen steadily by around 2 per cent per year, and now sits at around $79,000 per person.ii
Sound scary? The good news is, there are ways you and your family can buck this trend and ensure your finances stay out of the red and in the black. The key is good old fashioned budgeting.
Why a budget is important
Budgeting is simply the most straightforward, proactive way to ensure you will always have enough money for the things you need whilst allowing you to put a little aside for the things at the top of your wish list. That's the practical side of it. A budget can also help you reduce financial stress, improve your family relationships, redefine your personal values, and provide a good example for your kids or grandkids.
How to set up a budget
The first step is to do an audit of what you're spending. You may also need to do a round-up of what you're earning, if you have several income streams. Start by gathering as much evidence as possible; utility bills, receipts, bank statements etc. Make a tally of your outgoings. Be as accurate as you can; where you don't have a record to substantiate a line item, try not to underestimate it.
Then, compare your income to your outgoings. If you spend more than you earn, you've got work to do. If you've got a surplus, that's a great start, but there's always room for improvement.
The second step is setting goals. Choosing well defined goals – beyond just 'save more' or 'get rich' – is important for your long-term budgeting success. Try setting at least a few short, mid and long term goals. For example, in the short term, you might aim to reduce your spend on clothing by $100 a month. In the long term, you could aim to build up an emergency fund equivalent to six months' household income.
Why budgets fail
If all this sounds familiar to you, chances are you've tried and not succeeded at budgeting in the past. That doesn't necessarily mean you're 'bad with numbers' or lacking discipline. There are several common reasons why budgets don't stick. Many failed budgets had no defined goals. Others were too restrictive, allowing no room for spending on things like meals out or entertainment; anyone who's tried to completely cut 'fun' spending knows how unrealistic this is. Many budgets also 'break' after a short time because they fail to account for unexpected emergency expenses, from vet bills to urgent travel.
Once you're aware of why your last budget didn't succeed, you can start to build a better one.
The right technology can help make your budget more accurate, realistic, effective, and easy to stick to. You don't even have to create a spreadsheet from scratch, or use complicated software on your PC. Carry a budgeting solution in your pocket with a handy smartphone app:
Budgeting apps to make it easier
ASIC MoneySmart's TrackMyGoals and TrackMySpend apps – FREE
These government-produced apps draw on tonnes of research to help you implement proven savings and budgeting strategies.
Pocketbook – FREE
Pocketbook syncs with your bank account, automatically sorts your expenses into categories, and receive automatic alerts and warnings to keep you on track.
You Need a Budget – US$5/month or US$50/year
In the case of YNAB, one of the world's most popular budgeting apps, it's a case of spending money to save money. According to their stats, the average user saves US$200 in their first month using the app, and US$3,300 in their first nine months – that's over $4,300 Aussie dollars.
Still need a bit of help creating a budget, getting your expenses under control, or increasing the rate at which you save? We're here to help. Give us a call today to discuss your household budget situation.
i ABS, 5232.0 – Australian National Accounts: Finance and Wealth, Mar 2016
ii ABS, 4102.0 – Australian Social Trends, 2014 (Final): Trends in Household Debt