Autumn 2017
Autumn has arrived after a flurry of economic data on the home front during February. The company reporting season for the six months to December was extremely positive overall, confirming that corporate Australia is in good shape.
CommSec's survey of results from the ASX top 200 companies showed 94 per cent recorded a profit in the December half, with total profits up 130 per cent on the previous corresponding period (up 37 per cent excluding BHP). Earnings per share rose 19 per cent, cash levels were up 11 per cent and dividends were up 6 per cent. The strong performance was due to booming home construction and higher commodity prices, especially for iron ore, which is up 80 per cent over the past year to around US$90 a tonne.
One area of concern is the low level of business investment. The latest figures from the Australian Bureau of Statistics show new spending on buildings and equipment fell 2.1 per cent in the December quarter, down 15.5 per cent over the year. While the Aussie dollar has fallen from record highs during the mining boom, Reserve Bank governor Philip Lowe told the House of Representatives Standing Committee on Economics "it would be better if it was lower still" to support the rebalancing of the economy. The dollar is currently trading at around US76c.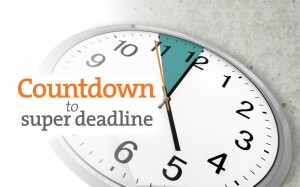 Countdown to super deadline
The clock is ticking for investors who want to take advantage of the more generous tax concessions available in super this financial year. As of July 1, new rules come into effect that will reduce contribution limits.
Until then, individuals can make a non-concessional (after-tax) contribution of up to $540,000 under the bring-forward rule which allows you to bring forward two years' contributions. That means couples can put up to $1.08 million into super while the opportunity lasts.
From July 1, the cap on non-concessional contributions will reduce from $180,000 a year to $100,000 or $300,000 under the bring forward rule.
But this is only one of the wide-ranging super changes you need to plan for if you want to take full advantage of the existing rules.
Concessional contribution caps
Tighter rules will also apply to tax-deductible concessional contributions. This financial year contributions of up to $35,000 are permitted for people aged 50 and… Read more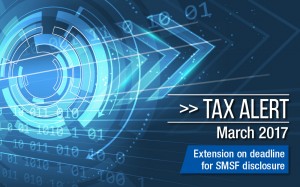 Tax Alert – March 2017
Extension on deadline for SMSF disclosure
Although superannuation funds and closely held trusts are currently caught in the ATO's crosshairs, small businesses may find life is a little easier after the latest round of tax changes and announcements. Here' s a roundup of some of the latest developments:
SMSF trustees receive a respite
With SMSF trustees feeling a little overwhelmed by the sheer volume of major legislative change coming into force in the super system, many will heave a sigh of relief that the ATO has extended the deadline until 30 April 2017 for disclosure of any personal services income (PSI) diverted into their fund.i
The deadline extension will provide SMSF trustees with extra time to make any necessary disclosures without facing administrative penalties.
ATO concerns about the diversion of PSI into SMSFs relate to the potential for tax minimisation or avoidance, rather than the income being subject to the individual' s marginal tax rate.… Read more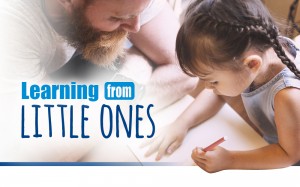 Learning from little ones
Feel like you could fill a book with all the weird and wonderful statements you've heard from your kids? Ever been on the receiving end of an 'honest' comment from a kid (and a rushed "sorry, no filter on this one!" from their parent)?
There's a reason kids' quotes are popular topics everywhere from Twitter and Instagram to forums and blogs. Before little ones learn manners and pick up on the subtle 'rules' of social interaction in different contexts, they're pretty happy to say whatever is on their mind.
Behind that lack of inhibition is something deeper, too. Kids don't have the hindrance of past experience to hold them back from enjoying life. And that's where the lessons lie.
Dreaming big
Ask a little kid what they want to be when they grow up, and chances are you'll get anything but doctor, lawyer or engineer. But that kid who's determined to be a crime-fighting dinosaur when he grows up might be on to something. Same with the little girl who… Read more