Winter 2018
Australia's national economic agenda in May was dominated by the Federal Budget and the promise of tax cuts. Consumers rode a wave of optimism until the final week of May when the ANZ/Roy Morgan consumer confidence index fell for the first time in 7 weeks, down 3.2 per cent to 117.7. Confidence is up 4.3 per cent this year, with the late pull-back attributed to a cooler sharemarket, rising fuel prices and on-again off-again US-North Korea peace talks.
The price of benchmark Brent Crude is up 13.5 per cent this year although the price dropped back to below US$75 a barrel late in the month on talk of OPEC and Russia increasing production to make up for losses in Venezuela and possibly Iran. Australian motorists are paying more at the pump, with average national wholesale petrol prices at a 3-year high of 138.7c.
At the same time, the housing market is cooling. The CoreLogic Home Value Index of capital city prices fell 0.3 per cent in April while the number of home loans to owner-occupiers fell 2.2 per cent in March, the sixth fall in 7 months.
Unemployment rose slightly from 5.5 per cent to 5.6 per cent in April but hours worked and the participation rate both rose.
The Australian dollar ended the month around US75c, down 3 per cent this year on US dollar strength.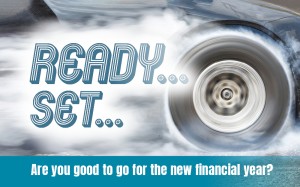 Ready…set… Are you good to go for the new financial year?
The end of the financial year is the cue for most of us to look at our financial position heading into tax time. Hopefully you've made progress towards your goals. But if you find that your expenses are trending higher than you'd like or—shock, horror!—higher than your income, this could be the perfect time for a fiscal makeover.
The starting point is gathering up as much information as possible, beginning with the household budget.
Take a budget snapshot
You can't set realistic financial goals and savings targets without knowing how much money you have at your disposal. If you don't already track your income and spending, then take an annual snapshot as you go through your records to prepare your annual tax return.
Deduct your total spending from total income and what's left is what you have to work with. Any surplus could be used to kick start a regular savings plan. If you discover a budget black hole, identify areas… Read more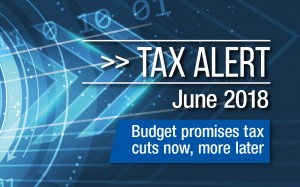 Tax Alert – June 2018
Budget promises tax cuts now, more later
While the May 2018 Budget delivered modest personal tax concessions for the upcoming financial year to Australian taxpayers, the big news was a new long-term tax plan that will overturn the existing progressive tax system.
Here's a roundup of the latest tax news:
Tax offsets for lower income earners
The headline announcement in the Federal Budget was immediate tax relief from 1 July 2018 for those earning up to $90,000. This low and middle income tax offset will provide relief of up to $530 a year. However, the tax cut will not affect weekly pay packets as it comes in the form of a tax offset, meaning taxpayers will not see any extra money in their hands until after tax time next year.
Another significant change from 1 July 2018 will be a lift in the threshold at which the 37 per cent tax rate applies, rising from $87,000 to $90,001. This means that those earning between $37,001 and $90,000 will be taxed at a rate of 32.… Read more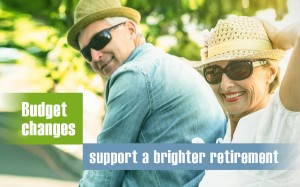 Budget changes support a brighter retirement
With tax cuts grabbing most of the attention in the May 2018 Budget, some quiet tweaks to superannuation and retirement income were drowned out in all the noise. But these small changes could have a big effect on the amount of money that ends up in your nest egg when you retire.
Here's a rundown of some of the more significant proposed changes:
Income opportunities for retireesi
The expansion of the Pension Loan Scheme will allow all Australians of Age Pension age to boost their income using the equity in their home. Under the scheme, retirees will be able to borrow up to 150 per cent of the Age Pension (currently 100 per cent), or $11,799 a year for singles and $17,787 for couples who are on the full Age Pension.
The loan is a reverse mortgage with an interest rate set at 5.25 per cent a year, about 1 per cent below the average commercial rate.ii The loan is typically not repaid until the home is sold and the Government guarantees that… Read more