Winter 2017
As the days get shorter and we settle into the cooler months, the political heat is subsiding after the Federal Budget. The Budget provided an annual snapshot of the state of Australia's economy: Treasurer Scott Morrison forecast a budget deficit of $37.6 billion this financial year, dropping to a deficit of $29.4 billion in 2017-18.
While stopping short of guaranteeing a return to surplus, the Treasurer projects the budget will be back in the black by 2020-21. The improving budget bottom line is predicated on an expected rebound in economic growth from 1.75 per cent this year to 2.75 per cent next year and 3 per cent beyond that, as the local and global economies pick up steam.
The government pledged to focus on good debt for productive purposes, with projects such as its $75 billion infrastructure program. While reining in recurrent spending, net debt is expected to peak next year at 19.8 per cent of GDP, falling to 17.6 per cent in 2020-21.
Inflation is expected to remain at the lower end of the Reserve Bank's 2-3 per cent target band, due to a soft jobs market and low wages growth.
In Europe eyes will look towards the UK general election held on June 8, while in the US domestic demand is firming up, strengthening the case for the Federal Reserve to raise rates again.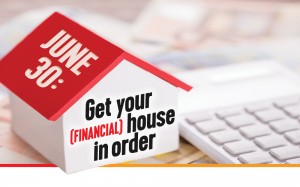 June 30: Get your (financial) house in order
Time is running out to get your financial house in order before June 30. This is especially the case for anyone who has funds available to make a large cash injection into their superannuation retirement savings before the rules change.
The 2016-17 financial year is your last opportunity to make a non-concessional (after tax) contribution of up to $180,000 to your super account, or as much as $540,000 under the 'bring forward' rule. This rule allows people under age 65 to make three years' non-concessional contributions in the current financial year by bringing forward two years' contributions.
From 1 July, the annual non-concessional cap reduces to $100,000 and $300,000 under the bring forward rule. What's more, anyone with a total super balance of more than $1.6 million at the end of this and future financial years will not be able to make any more non-concessional contributions.
A golden opportunity
If you have recently sold… Read more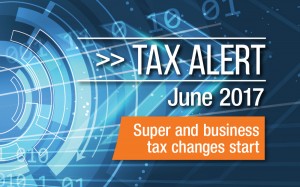 Tax Alert June 2017
Major changes to the rules applying to both superannuation and business tax come into force on 1 July 2017, so taxpayers need to ensure they are prepared for the new regime. Here's a roundup of the key tax changes:
Instant asset write-off ends
Small business owners should note the very popular $20,000 instant asset write-off scheme has been extended for another year to 30 June 2018. Under this scheme, small businesses can purchase items of capital equipment costing less than $20,000 and claim an immediate tax deduction.
Although originally due to end this financial year, the popular measure was given a reprieve in the May budget. The government has signalled that it will be tightening the rules to make sure that purchases made are for business use only.
New super contribution rules
The biggest tax changes to Australia's super system in a decade will start on 1 July 2017. A host of new rules apply to both the contribution and retirement phases of the super… Read more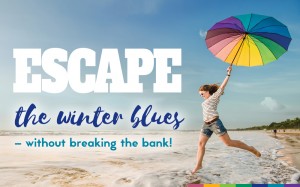 Escape the winter blues – without breaking the bank!
Have you been feeling a bit sluggish as the winter weather sets in? Are you craving richer meals, sleeping in a bit more, and generally feeling a bit flat?
There could be a scientific explanation. Seasonal Affective Disorder (SAD), otherwise known as the winter blues, is a real condition. It's more common than you might think in this country as it's estimated that up to 54% have some of the symptoms.i
Even if you're not afflicted by SAD, it's pretty common at this time of year to feel a bit lacklustre as the days get shorter and the drizzle sets in. One thing guaranteed to put a spring in your step is the idea of escaping the cold weather and heading on holiday somewhere for days of endless blue sky and balmy warm nights.
Escape the grey skies by heading north
The good news is that Aussies have plenty of options when it comes to getting away to somewhere warmer. It doesn't cost much for those on the southern and eastern… Read more