Summer 2017
It's December and the countdown to Christmas and the summer holidays has begun. But before we tuck into our Christmas turkey (or prawns), switch on the cricket and head for the beach, there is always work to complete and loose ends to tie up.
The Australian economy sent mixed messages in November. The Reserve Bank's statement of monetary policy early in the month forecast economic growth will gradually pick up from the current annual rate of around 1.8 per cent to 3.5 per cent by the end of 2019. Inflation, currently 1.8 per cent, is expected to remain low and while the next movement in interest rates is likely to be up, the Reserve is in no hurry to act.
The improving economic outlook is reflected in business profits, with the NAB business conditions and profitability indices at record highs in October, at 21.1 points and 26.2 points respectively. The jobless rate also continues to fall, from 5.5 per cent to 5.4 per cent in October, the lowest since February 2013. Wage growth, however, still lags at 2.0 per cent in the year to September, only just ahead of inflation at 1.8 per cent. Consumer confidence hit a four-month high in November before easing back slightly; the ANZ/Roy Morgan consumer confidence index finished the month at 115.0 points, above its long-term average. This has yet to translate into retail sales which were up just 0.1 per cent in the September quarter while retail prices fell 0.4 per cent. The Australian dollar finished the month around US76c, up almost 6 per cent so far this year.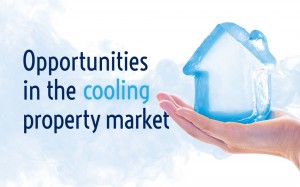 Opportunities in the cooling property market
Things are looking up for first home buyers for the first time in years as house price growth begins to slow across the country. While prices have been on the slide for some areas in the West and the North since the end of the mining boom, the housing market in Sydney and Melbourne also appears to be losing steam.
At a national level, house prices were unchanged in October and up just 0.3 per cent over the quarter according to the latest figures from property research group CoreLogic. Significantly, the over-heated Sydney market fell 0.6 per cent over the three months to October, joining Perth and Darwin which have been falling since 2014.i
Hobart is the top performing market, fuelled by mainlanders searching for more affordable housing. Prices for Hobart dwellings rose 12.7 per cent over the past year, although price growth slowed to 0.09 per cent in October. It's easy to see why people are flocking to the Apple Isle; the median… Read more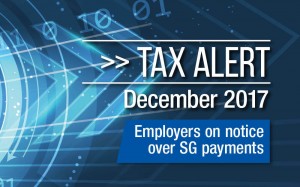 Tax Alert December 2017
Employers on notice over SG payments
Employers who fail to pay their employees' super on time are likely to find themselves on the receiving end of some unwelcome attention after the tax man was given more resources. Here's a roundup of the latest tax news:
Super payments under the microscope
New funding for the ATO will give it more resources to tackle non-compliance with the requirement for regular employee superannuation guarantee (SG) payments by some employers. In addition, legislation will be introduced to close the legal loophole allowing employers to deduct salary-sacrifice contributions made by their employees from their SG payments.
According to the Government, the new money is designed to give the tax man "near real-time visibility" over employer SG compliance, with super funds required to report at least monthly all contributions received on behalf of employees.
Single Touch Payroll for super information will be rolled out to employers with 2… Read more
The 12 tips of Christmas
"On the third day of Christmas, my true love gave to me,
Three declined cards,
Two cash advances,
And thirty days in-te-rest freeeeee!"
Ever wonder what Christmas carols would sound like if they were written today? There'd probably be a lot less about piper's piping and partridges in pear trees, and a bit more about the madness of trying to put on the perfect Christmas without breaking the bank – or going a bit mad. Perhaps an urban legend of a parent who braved a Westfield on Christmas Eve and lived to tell the tale.
If this sounds familiar, here are a few steps you can take to help reduce the financial stress of the silly season.
Make a list
Every time you hit the shops (because let's be honest, it'll take more than one go), make a list before you leave (but after you've eaten, to avoid hunger-based snack purchases). This goes for everything from gifts and Christmas Day food, to decorations and extra furniture/linens for holiday guests.